Buy or rent this used 72′ x 60′ modular office building or one just like it anywhere in Florida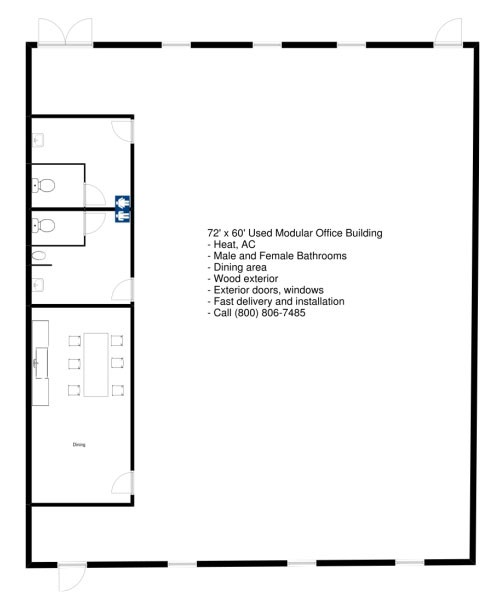 iModular.com has a large 72′ x 60′ used modular building listed for sale in Florida. It has over 4,000 square feet of space and several other features that make it a perfect fit for a temporary operations office or even a permanent modular office building for any type of business in need of space.

➠72′ x 60′ modular buildings are built using 6 12′ wide by 60′ long modules.
➠Delivery and installation can take 7 to 10 days depending upon the site conditions and weather.
➠Wheelchair ramps and steps for access can be built on site or fabricated and delivered to the site during the modular building installation.
This large modular office building can be delivered and installed quickly anywhere in Florida including Miami, Orlando, Fort Lauderdale and Tampa Bay. The floor plan can be modified to add interior offices, bathrooms and other spaces as needed.
Please Note: iModular has several used modular buildings for sale in Florida or we can help you find the ideal floor plan from local suppliers throughout the state.
The price of this 72′ x 60′ modular building is negotiable. For a price quotation including delivery and installation complete the simple form below or call us directly at (800) 806-7485.