Every type of modular building needs a wheelchair ramp and set of stairs for safe and easy access into and from the structure. Not only is this common sense…it's the law. So, if you are searching for an aluminum wheelchair ramp or steel set of steps for your modular office building, mobile office trailer or portable classroom – be sure to use the following tips:
1. How long of a wheelchair ramp will you need to service anyone with a disability entering and exiting your modular building?
2. How will the wheelchair ramp fit in the space you have for the mobile modular building?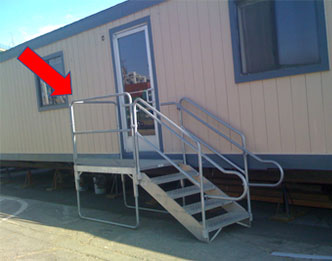 3. Plan your door locations and remember that you don't need a wheelchair ramp to service every doorway in your modular building.
4. Shop for the most affordable price to rent or buy an aluminum wheelchair ramp or access stairs by using the iModular.com price comparison and buyer form below.