Many of the school programs I deal with are in need of assistance and having a modular classroom donated sometimes is the difference between educational success or failure, particularly in areas that are economically challenged and lack quality school housing. A modular classroom can make a huge difference in any type of school program – but in many cases, the costs are simply out of reach.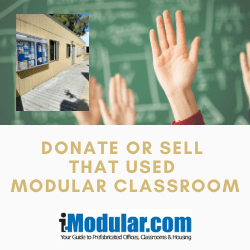 If you are interested in knowing what your used portable modular classroom is worth read this overview.
Donating may also solve your school facility space challenges by freeing up more space for a new modular school building or a completely new school facility. Knockdown and removal of most modular classrooms is a matter of a few days of labor and transport off of your site to the new location.
Thanks, and please share this post with anyone that may be able to help.
Need more information about modular building? iModular.com is here to help answer your questions and assist you with finding the best supplier for your space needs in the U.S. or Canada. Call our Toll Free Modular Building Help Line at (800) 806-7485.