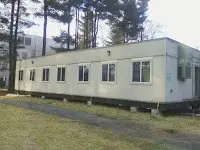 How can you rent a modular building?
Can we rent a modular building if we can't afford to buy one or we only need the space temporarily? At iModular.com we get this question often and it seems that the answer "yes" pleases a lot of people who are in need of an office trailer or portable classroom. Why? Because renting a used modular building is a heck of a lot less expensive than a new model and you can typically find what you need and have it set up pretty quickly.
Most modular building suppliers in the United States have inventories of used 24′ x 40′, 24′ x 60′ and 36′ x 60′ office trailers and classrooms.
In fact you can also find special locker and shower room trailers, modular daycare buildings, church buildings and a variety of other floor plans for rent that can be freshened up with new paint, new floor finishes and a good cleaning to meet your specific space needs.
Last month we helped over one hundred businesses find used modular buildings at discounted rental rates. So you are in luck if "used" doesn't bother you and you like to save money.
Try our free price quote form and see what used modular buildings cost in your area.
Happy trailer hunting…
Matt
This post was approved by the Senior Editor of www.imodular.com, a GBM Marketing, Inc. web property.